13th Dresden Steam Engine Festival October 08th - 10th, 2021
On this site we will publish all information about the festival, the corresponding special steam trains and the surrounding program, as soon as they are fix set up.

Information about the Corona virus and the 13th Steam Engine Festival 2021
The actual situation enables us to plan the Steam festival this year. Decreasing incidences brings up a real possibility to hold such a festival. By now it is still too early to publish exact details about the festival, admission modalities, tracking addresses, negative tests and so on. Due to this, the ticket pre-sale can not start yet. We expect to start the pre-sale on our website on August, 1st.
Find here: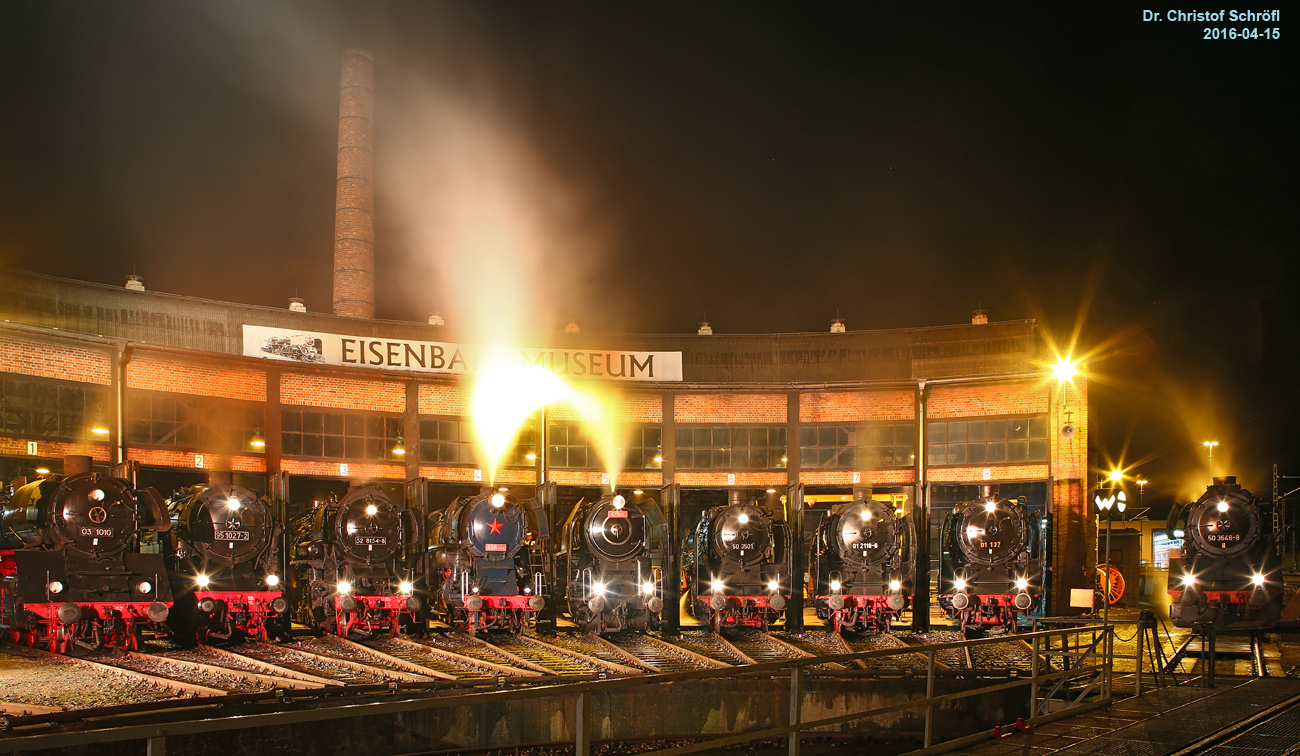 (Planungsstand 19.04.2020)

General information
The Dresdner Dampfloktreffen has established its place among railway and steam galas in Saxony for many years. Vintage trains from various regions of Germany as well as from neighbouring countries intend to approach Dresden, for their travellers and rolling stock to attend this gala. Similar to previous years, we intend to have illuminated evening photo sessions (Friday and Saturday) and a live music concert "Steam & Dixie" (Saturday night). An attractive programme of half-day and full-day excursion trains will be offered. We cordially welcome you as our travelling guests, in addition to "feel" the atmosphere in our depot.
Tickets to the museums grounds are of course valid for the festival area at Zwickauer Straße. Furthermore, they allow single-entry to Verkehrsmuseum Dresden "Johanneum" at Neumarkt (close to Frauenkirche) at one of the three days of the festival. It is up to you to attend Zwickauer Straße and Johanneum at the same day or to split the visit to two individual days within the timeframe of April 09 to 11.
Why we don't simply move the cancelled 12th Steam Engine Festival into 2021
The 12th Dresden Steam Engine Festival had to be cancelled due to the restrictions, issued by the local authoroties, connected to the distribution of Corona virus "Covid-19". To move the date into 2021 is not possible, e.g. some of the planned steam locomotives cannot participate next year. The reasons are diverse. Some of them need a new general inspection, which takes longer than the remaining time to the next festival is. The concluded contracts with guest loco partners have to be re-newed and the special train program must be adapted to the circumstances next year. Construction plans can prevent us from using a track and so on.
For this reasons we decided to continue numbering of our festivals and to held the 13th steam festival in 2021.
Planned special steam trains
Friday, Oct, 08th 2021
Dresden main station – Freiberg – Dresden‐Neustadt – Bischofswerda – Dresden main station
(via Tharandt ramp and Klotzsche ramp, duration ca. 4 hours)

Satturday, Oct, 09th 2021
Morning: Dresden main station – Nossen – Döbeln – Waldheim – Chemnitz – Dresden main station
(duration ca. 4 hours)
Afternoon: Dresden main station – Kamenz – Hosena – Senftenberg and back
(duration ca. 4 hours)
Sunday, Oct, 10th 2021
Morning: Tharandt ramp, parall ride to special goods train
(duration ca. 3 hours)
Afternoon: Dresden main station - Decin (CZ), possibly further to Ústi (CZ) and back
(duration ca. 3,5 hours / if possible to Ústi, 4,5 hours)
Important information about the nightly locomotive photo presentation
Until a short while before the beginning of our festival, there will be no valid information about the Corona based restrictions along the nightly locomotive presentation on our turntable. We decided not to sell any tickets for the photo events in ticket pre-sale this year. All tickets for the evening photo event will be available at the evening cash counter. We still do not know how many of the 200 seats we can offer, or if there will be a need of masks or a mininmum distance between photografers. As soon as we will have these information, they will be published here. Thanks for your understanding!
Partners to the 13th Dresden Steam Engine Festival